RoboNav
Jump to navigation
Jump to search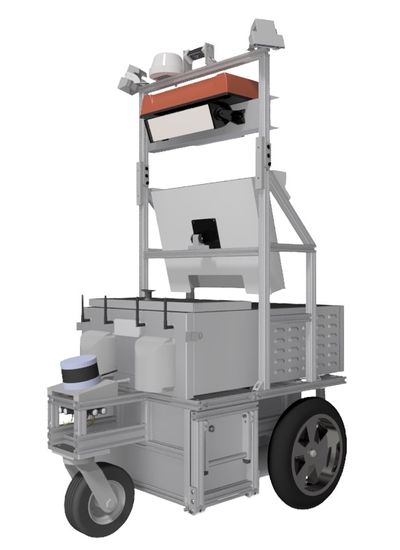 The IGVC competition is centered around building the next generation of off-road, all-weather autonomous vehicles. The idea is to create a vehicle and tech stack that can navigate through an obstacle course to given GPS waypoints without human intervention. The map is not known beforehand, and while there are certain obstacles that are commonly used, theoretically anything can be placed onto the course. The competition is scored in three main areas. First is the design of the robot as presented in the TDP (a written report on the vehicle) that is given to industry experts for judging. Next, the team is scored based on their presentation of the robot, including a Q&A from the judges. Finally, the robot is put to the test by trying to navigate the fastest route on the AutoNav course. If multiple robots complete the course, the winner is the robot that completed it in the fastest time. Otherwise, the robot that navigates the farthest is the winner. In other words, speed is second to safety.
Meeting Times
We meet in the Student Competition Center (575 14th St). If you are working in the machine shop or mechanical room you will need to wear closed-toe shoes and a t-shirt (no long sleeves). Bring a hair tie if needed.
Wednesdays 6:30PM to 9PM
Sundays 4PM to 7PM
Current Leadership
Project Manager: Charles Li
Mechanical Lead: Nicholas Vellenga
Electrical Lead: Indraja Chatterjee
Software Lead: Vivek Mhatre
Competition
Guidelines
Important Dates
June 5-8, 2020: 28th Annual IGVC
Past Competitions
Gallery of Past Robots
The Year of No Robot
In 2005, a year of transition, RoboJackets lacked the manpower to send a team to competition.
Subteam Resources
The IGVC Electrical Team focuses on the development of a high-power motor control system with various other subsystems for other forms of robot control. Motor control is centered around an mbed LPC1768 development board who handles Proportional-Integral-Derivative (PID) and light control.
Mechanical
Software