RoboJackets 20th Anniversary Competition
Jump to navigation
Jump to search
20th Anniversary 2019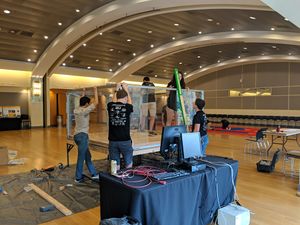 Competition Summary
Robojackets 20th Anniversary Competition was hosted by Robojackets in the Georgia Tech student center on the 30th of March. It consisted of beetle-weight battle bot, lego-sumo, and Roboracing competitions as well as a show case for our 120 pound bots Mandiiii and Cassowarii (middle-weight). We had some local teams attend as well as some from out of state. The beetle-weight tournament was fought as a Double-Loss Bracket Style tournament, where every team is guaranteed two matches.
Lego-Sumo Competition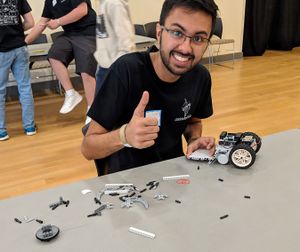 Results
The overall winner of the Battlebots was the bot Dynastinei, an under-cutter three pound bot made by a Georgia Tech student and former Robojackets member. Almost all of Robojacket's three pound bots passed safety, and Crispi, Groovi, Doori, Unlucki, Entropi, and Furi all won a match (including by forfeit).
BattleBots made by RoboJackets
BeetleWeights
Showcased