RoboCup
Jump to navigation
Jump to search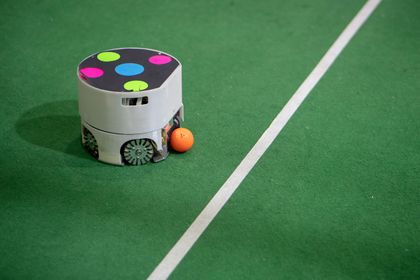 The Georgia Tech RoboJackets RoboCup Small-Size League team competes in a 6-on-6 AI-driven soccer match against teams from around the world.
The field is equipped with two overhead cameras, which act as the primary information source for the selection of plays and tactics.
If you haven't already, subscribe to the RoboCup Mailing List.
Meeting Times
We meet in the Student Competition Center (575 14th St). If you are working in the machine shop or mechanical room you will need to wear closed-toe shoes and a t-shirt (no long sleeves). Bring a hair tie if needed.
Tuesdays: 7:00 - 10:00 PM
Sundays: 7:00 - 10:00 PM*
*New Member Meeting in the fall semester is on Sundays.
Current Leadership
Project Manager: Mili Das
Chief Scientist: Prabhanjan Nayak
Electrical Lead: Kelvin Hau
Mechatronics Lead: Nicholas Sackleh
Software Lead: Sid Parikh
Competition
Past Competitions
2019
2018
Resources