RoboCup
From RoboJackets Wiki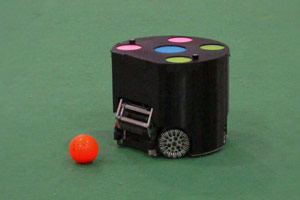 The Georgia Tech RoboJackets RoboCup Small-Size League team competes in a 6-on-6 AI-driven soccer match against teams from around the world.
The field is equipped with two overhead cameras, which act as the primary information source for the selection of plays and tactics.

If you haven't already, subscribe to the RoboCup Mailing List.
Important Items
Electrical
List of RoboCup Electrical Wiki Pages
How to be a Great Electrical Engineer
Control Board 2011
Control Board 2011c Reference Page
Reflow Oven
Design Programs
Verilog synthesis
FPGA pin configurations
Solder paste stencil editing/verification

Download free trial and print to a PDF for keeping a vector formatted file
CAM Job

Export gerbers and drill
Select all relevant gerber and drill files
Drag-and-drop files
Select the corresponding gerbers for each layer and the drill file
Inspect the PCB
Learning Resources
RoboJackets Electrical Training
RoboCup Electrical Video Tutorials
Mechanical
List of all RoboCup Mechanical Works
Software
List of all RoboCup Software Works
Example Matches
SKUBA(blue) vs. ZJUNlict(yellow)
Parsian(yellow) vs. KIKS(blue)
Current Officers
Jeremy Feltracco - Project Manager
Evan Peterson - Electrical Lead
Sameer Naeem - Mechanical Lead
Josh Ting (Fall), Matthew Woodward (Spring) - Software Lead
Reference Documents
General Resources for Learning