RoboCupMechanical
Jump to navigation
Jump to search
This page houses the 2011 RoboCup Mechanical efforts. The 2008 efforts can be found here. How to use Inventor and get it can be found on the Inventor How to Guide. Inventor is also available on our CAD Machines in Tin and in the ECS Lab in the French building.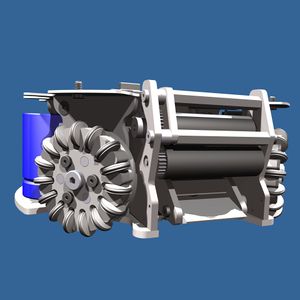 Meetings & Development Time Line
Current Work Schedule
Sundays, 1pm - 6pm
Tuesday, 1pm - 6pm
Thursday, 1pm - 6pm
Development Schedule & Tasks
This is just a list of our most pressing objectives. For a full listing see RoboCup Mechanical Dev.
Review Drive base and Chipper / Kicker Assembly.
Machine

Omni Bodies
Drive Plates
Base Plates
Dribbler Plates

Solenoid development
Systems
Overall
Drivetrain
Integration
Ball Control
Testing
Fabrication
Competition Specifications
Field

Area 6.6m x 4.7m
Material - Locally available carpet

Robot

Maximum Diameter - 180mm
Maximum Height - 150mm (measured from solid surface)
Maximum Weight - 1.8 kg

Golf Ball

Max Speed - 10 m/s
Diameter - 43 mm
Mass - 46 grams
Material - DuPont Surlyn Ionomer Dupont's Surlyn Page
No more than 20% of the ball's area may be occupied by / within the robot. See this illustration.

More info found in rules RoboCup SSL Website
Testing
Useful Links