Anarchi
Jump to navigation
Jump to search
Introduction
Need to edit lol, alot of this was copy-pasted from Chonkii Members:
Dylan Adriano (Bot Lead)
Brian Naing
Cade Tyler
Jackson Isenberg
Lucas Luwa
Drive System
Foot Profile
Weapon System
Design Considerations
Shell Design
Shell was milled out of a 250 lb block of A36 steel. It took forever but was very effective in absorbing damage.

Pros:

Cons:
Expensive, had to get Speed Machine to have them use a larger machine to mill the shell out.
One piece, parts that got damaged on shell were not replaceable - dents needed to be pressed or hammered out.
Weapon Shaft Interface
A tapered roller bearing fits into a housing that is attached to the top of the shell.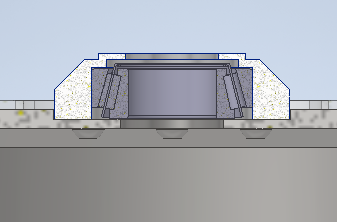 Weapon-Drive Mechanism
Inspired by Hyperpolarized, it was later decided to drive the weapon by using a single driven wheel at the top of the bot, with rollers along the surface to give additional support. A central shaft was used as a dead axle support.
Chassis System
The chassis mostly consisted of aluminum, featuring of a ¼" top and side plates and ⅛" bottom plate.
The front and back plates were made of HDPE, which bent to form Chonkii's robustly round shape.
The chassis had multiple rollers spaced out along its top, giving additional support to the shell track above.
The central dead axle was constrained by two blocks, mounted to both the top and bottom plates. However, it was later determined that a single longer block with a key would constrain the shaft better than the two block system.

While drilling through the blocks into the shaft, a drill bit melted inside, acting as a makeshift pin (that was instantly destroyed in competition).
Electronics
Drive Motors
Turnigy Aerodrive SK3 - 5055-280KV Brushless Outrunner Motor




Drive Motor Controllers
Flipsky Dual FSESC6.6 Based upon VESC6 with Aluminum Heatsink Mini Size (whatever apachi used)
Weapon Motor
Scorpion SII-4035-250KV
Weapon Motor Controllers
Tribunus 06-120A (6S) Brushless ESC
Receiver
Hobby King 2.4Ghz Receiver 6Ch V2

Remote Control
Hobby King 2.4Ghz 6Ch Tx and Rx V2

Battery
Turnigy Heavy Duty 5000mAh 6S 60C LiPo Pack w/XT90

Turnigy Graphene Panther 3000mAh 3S 75C Battery Pack w/XT90

Competitions
Results: 2-2

Bracket Style: Double Elimination

[Chonkii (winner) V.S. Marathon (loser): YouTube Link]

This match saw Chonkii head to head with a
Chonkii got a bunch of good hits in, sparks flew multiple times.
Shove, wall , stay
More Description

[Chonkii (loser) V.S. Yahoo (winner): YouTube Link]
[Chonkii (winner) V.S. Pigeon (loser): YouTube Link]

Trick shots, smacked off titanium front plate
More Description

[Chonkii (loser) V.S. Lockout (winner): YouTube Link]

Forfeit (5 thou)
More Description

Robojacket Rumble

[Chonkii vs Everyone: YouTube Link]

Description
More Description
Issues
Changes to make
Trivia
The Vectrax was rendered inoperable twice by Chonki members (mainly Brian) during its construction.