RoboRacing
Jump to navigation
Jump to search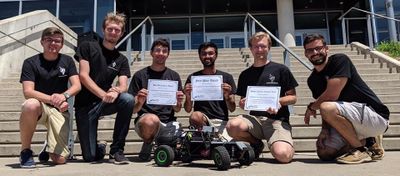 RoboRacing is a competitive robotics team geared towards autonomous racing of small scale automotive platforms. The team started in 2013 and has since built robots to compete in the IARRC competition since the team's inception, as well as the Sparkfun AVC competition since 2016. RoboRacing is additionally planning on competing in the evGrand Prix Autonomous competition in 2020.
RoboRacing puts its members at the forefront of emerging technology in self-driving cars through involvement in autonomous RC vehicle design, fabrication, and programming. Each competition has proven to be a great learning opportunity for everything from robust mechanical design to advanced programming skills that could be applied to diverse engineering applications. 
Meeting Times
We meet in the Student Competition Center (575 14th St). If you are working in the machine shop or mechanical room you will need to wear closed-toe shoes and a t-shirt (no long sleeves). Bring a hair tie if needed.
Carpool Pickup Locations: North Avenue Apartments & West Village
Current Leadership
Project Manager: Megan Huang
Electrical Lead: Jackie Mac Hale
Mechanical Lead: Rohan Punamiya
Software Lead: Isaac Dale
Competitions
International Autonomous Robot Racing Competition
RC scale autonomous racing and navigation.
evGrand Prix
Autonomous high-speed racing of full-size go-karts.
Past Competitions
evGrand Prix
| | | | |
| --- | --- | --- | --- |
| Bot | Competition Years | Versions | Design Reports |
| Rigatoni | 2019 - 2020 | Rigatoni | |
IARRC
Results:
| | |
| --- | --- |
| Year | Placement |
| 2019 | 1st Place Overall |
| 2018 | Did Not Place |
| 2017 | 3rd Place Overall |
| 2016 | 1st Place Overall |
| 2015 | 4th Place Overall |
| 2014 | 1st Place Overall |
Sparkfun AVC
| | | |
| --- | --- | --- |
| Bot | Competition Years | Versions |
| Bigoli | 2016-2018 | Bigoli, Bigolii |
Results:
| | | |
| --- | --- | --- |
| Year | Car Wars | Speed Demons |
| 2018 | Did Not Place | 1st Place |
| 2017 | 1st Place | Did Not Place |
Resources
Setting Up Ubuntu for Ethernet LAN While Preserving Wifi Internet Access