AVC 2022
Jump to navigation
Jump to search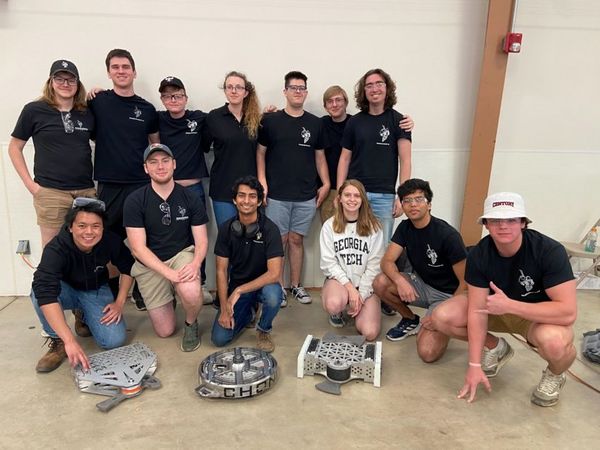 Competition Summary
Angry Vehicle Competition 2022 was a double-elimination bracket style tournament in Longmont, Colorado that was hosted from May 13th to 15th. There were weight classes from ants (1lb) to feathers (30lb). RoboJackets sent 3 featherweights this year. It is organized by former Copperhead and Poison Arrow builder, Casey Kuhns (email is kuhnscasey@gmail.com).
Results
Chonkii - T5th place Featherweight
Anarchi - T5th place Featherweight
Binari - T9th place Featherweight
Notable Bots at Competition
Crippling Depression (30lb)
Yahoo (30lb)
BEAM (30lb)
Wedgeham (30lb)
Kitten Mittens (12lb)
Bobby (12lb)
Night Crawler (12lb)
Billy (3lb)
Rickety Cricket (3lb)
Lessons learned
History
RoboGames was cancelled not bc the TO just yote to france, but bc it was too expensive to make the arena safe again (1/2 million to 3/4 million) for 250 lbers and breaches were happening (bots flying out of arena), and they didn't want to sell the arena and run the risk of the new owner not fixing it and someone getting hurt
AVC (rr comp version) was cancelled bc sparkfun wasn't making money from it
Norwalk is trying to build up to what RoboGames was (eventually with a 250lb capable arena)
3lb comps happen basically every weekend now, might aid taking less bots to moto to help relations with NERC
Logistics
Shipping is uber expensive, more pelicans/suitcases with stuff would be better and easier to track
Fastenal can ship location to location freight for decently cheap, was recommended by show teams (Specifically Casey, the TO)

Bots
There are known ESC/motor combos to work, we should consider in the design phase the advantages and disadvantages to using known combos vs experimenting (e.g. what do we gain from exploring new options)

BLHeli32 is a firmware that certain ESCs run which guarantees you can change certain settings on them (such as bidirectional/3D mode)It is the type that we used on HockiThere is a spreadsheet compiling a list of all BLHeli32 capable ESCs for mini quad scale (which should be fine for 12lb drives) on this link:https://oscarliang.com/blheli-32-overview/ For the 30lb robots you should be getting ESCs that are rated for X-class drones and run BLHeli32. These are the ESCs recommended by team liftoff (30lb meltybrain) so they are more than enough power for regular 30lb drives. You can also use VESC at that scale or even get decent results with brushed (as demonstrated by anarchi and BEAM)

Aluminum kinda sucks in 30lb for anything externally facing (hard exception to this: beam)

BEAM, one of the bots in the competition with the most powerful weapons, only had 1/4" thick 7075 and 6061 plates holding the weapon.
1/4" 6061 is not thick enough but 1/4" 7075 and thicker seems more viable. Would require more investigation.
Doesn't seem like anyone knew why most people use UHMW over HDPE, but we're almost the only group using the latter and the price difference is pretty small
Titanium armor is great for <30 lb, steel armor should be considered at 30lb, issue is that they're pretty pricey
Flat belts are ass, paired with a ribbed can on a motor is a recipe for "cheeto dust" - disintegrated belts. Any edges the belt can contact and rub on will cause the belts to grind themselves down.
Plastic armor (UHMW PE or HDPE) should be a part of the design and reviewed
Other teams have multiple weapon spares and in different configurations too for different types of opponents.
We probably aren't speccing our batteries right. We've found that we overspec capacity. BEAM personally uses a 4000mAh 6S 120C battery from https://www.smc-racing.com/.