RoboJackets Brand Standards
Jump to navigation
Jump to search
These guidelines are out of date. Please refer to http://brand.robojackets.org to see the updated brand guidelines.
The following brand and design standards define the graphics and colors that are appropriate for RoboJackets promotional material.
Primary Fonts
BankGothic Md BT
This is our primary title font. It is to be used only for the RoboJackets title itself.
BankGothic Lt BT
This is our primary subtitle font. This font is appropriate for subtitles, primary headings, and project names.
Secondary Fonts
Klinic Slab Bold
This is our secondary font for headers.
Klinic Slab
This is our secondary font for text and body.
Colors
RoboJackets Colors
The RoboJackets Colors: Black (#000), Buzz Gold (#EEB211), White (#FFF), Light Grey (#C8C8C8), and Silver (UNK).
You are free to select lighter or darker shades as needed, but in general we use these colors specifically.
Most RoboJackets material appears on a white or black background.
GT Colors
GT Colors: White (#FFF), Buzz Gold (#EEB211), Old Gold (#B19142), Navy (#00254C)
GT Grays: Black (#262626), Dark Gray (#545454), Medium Gray (#808080), Light Gray (#E5E5E5).
RoboBuzz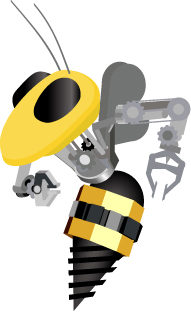 RoboBuzz is the mascot for the RoboJackets.
RoboBuzz is always printed on a White background. Applications requiring RoboBuzz to appear on a non-White background should leave a White silouhette beneath RoboBuzz. For an example, see the RoboJackets Sticker: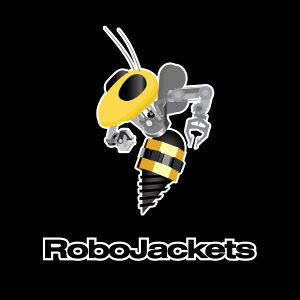 Logo
The RoboJackets Logo is the RoboJackets Text, often accompanied by RoboBuzz and/or the team names in the secondary font.
RoboJackets Text:

RoboJackets Text w/ Team Names:
RoboJackets "Head" (Features Text, RoboBuzz, Team Names, and URL):

Vertical Logo
Logo elements may be stacked vertically when needed. When this is done, RoboBuzz should be scaled to be half the width of the Text. The distance between the tip of RoboBuzz's drill/stinger and the top of the J in RoboJackets should be 1/24th the width of RoboBuzz.